DAS 2023 held in Mountain View on March 14th was a remarkable event that brought together industry experts, innovators, and enthusiasts in the field of agriculture, animal welfare and technology.
The summit facilitated discussions on a broad range of topics related to AI in agriculture, sustainable and traceable food production, blockchain, cost efficiency and pet wellness.
The summit included on-stage discussions and networking opportunities that brought together over 100 delegates from different Ag domains. The event featured insightful discussions, critical debates, and productive networking sessions that will leave a lasting impact on agriculture, animal care and production industry.
On-Stage Highlights
Panel 1: Farms of the Future: AI Meets Ag
Thought leaders from digital, technology and farming backgrounds talked about how AI is impacting crop and animal agriculture. They shared insights on what the farms of the future will look like and how predictive analytics is being used for better forecasting and crop planning in improving profitability. The panellists included high profile executives and speakers the likes of Harold Birch (Founding Member, UnCommon Farms), Timothy Robertson (Executive Chairman, Precision Livestock Technologies), Ian Wheal (Founder & CEO, Breedr), Anthony Finbow (CEO, Eagle Genomics Ltd.), and M. Abdullah (VP, Folio3 AgTech).
"Future farms will become increasingly high-tech and automated, with sensors and IoT devices collecting real-time data on everything from soil health to animal behavior, but there are still many challenges to overcome, including data privacy concerns and the need for more robust AI models specifically tailored to the complexities." said Anthony Finbow (CEO, Eagle Genomics Ltd.)
"By leveraging data from sensors, drones, and other sources, farmers can better predict the optimal times to plant and harvest crops, as well as predict potential threats such as pests or weather patterns that could impact yield. These insights can help farmers optimize their resources, reduce waste, and increase profitability." said Harold Birch (Founding Member, UnCommon Farms)
Panel 2: The Future of Food: Sustainable? Traceable? Edible?
Industry experts discussed how food chain networks are creating systems that address the needs of today's consumers; a more sustainable food supply. Identified trends and technology that are helping with accurate traceability (farm to fork) and digital transformation that measures the progress of businesses while producing sustainable food supply. The panel had Elysabeth Alfano (CEO, VegTech Invest), Justin webb(Co-Founder, AgriWebb), BJ Brugman (Co-founder and CEO, Distynct), and Matthew Cleveland (Director, Genus PLC)
"Food chain networks are increasingly focused on reducing food waste and improving the efficiency of supply chains, in order to address the global challenge of feeding a growing population while minimizing the environmental impact of agriculture." said Matthew Cleveland (Director, Genus PLC)
"One of the most promising solutions to the problems of the current food system is the shift towards plant-based eating. Plant-based foods have a much lower environmental footprint than animal products, require fewer resources to produce, and are often healthier for humans." said Elysabeth Alfano (CEO, VegTech Invest)
Opening Keynote: Lessons for the Future: The Guitar Hero Story
Charles Huang, co-creator of one of the greatest video games in history, talked about the Guitar Hero journey and future lessons for all entrepreneurs and the keynote was moderated by Umair Khan (Founding Partner, Mentors Fund)
"Teamwork, partnerships, and networking in building a successful startup & staying true to your vision while being adaptable and open to feedback is an actual secret to success." said Charles Huang (Co-founder, Guitar Hero)
Conference Keynote: A Tale of Two Entrepreneurs
Megan Berry (Mentors Fund) moderated a conversation that explored the entrepreneurial journeys of Garrett Smallwood, CEO at Wag! Group Co., the NASDAQ listed on-demand dog walking platform & Lisa Hu, Co-Founder of Roo, the ground-breaking veterinary relief platform connecting hospitals with relief staff and their views on the future of animal tech and agtech.
"The future of animal tech has enormous potential for innovation and growth, particularly the use of artificial intelligence and machine learning to better understand and care for your pets. These technologies can help us to develop more effective and personalized treatments for companion animals, as well as to better understand their behaviour and needs." said Garrett Smallwood (CEO, Wag! Group Co)
Innovators of the Future Showcase
Naiel and Punhal (La Jawab Treats), Safia, Saira, and Yusuf (KeenBees), and Ayush, Oryan, Sohun, Tommy, and Yusuf (Solyra) are current students and future leaders who shared their journeys of building innovative solutions that are helping improve the way we live and eat.
"Being an entrepreneur requires a lot of hard work and determination, but it's also incredibly rewarding to see people enjoy the food that we create." said Naiel and Punhal (La Jawab Treats)
Event Highlights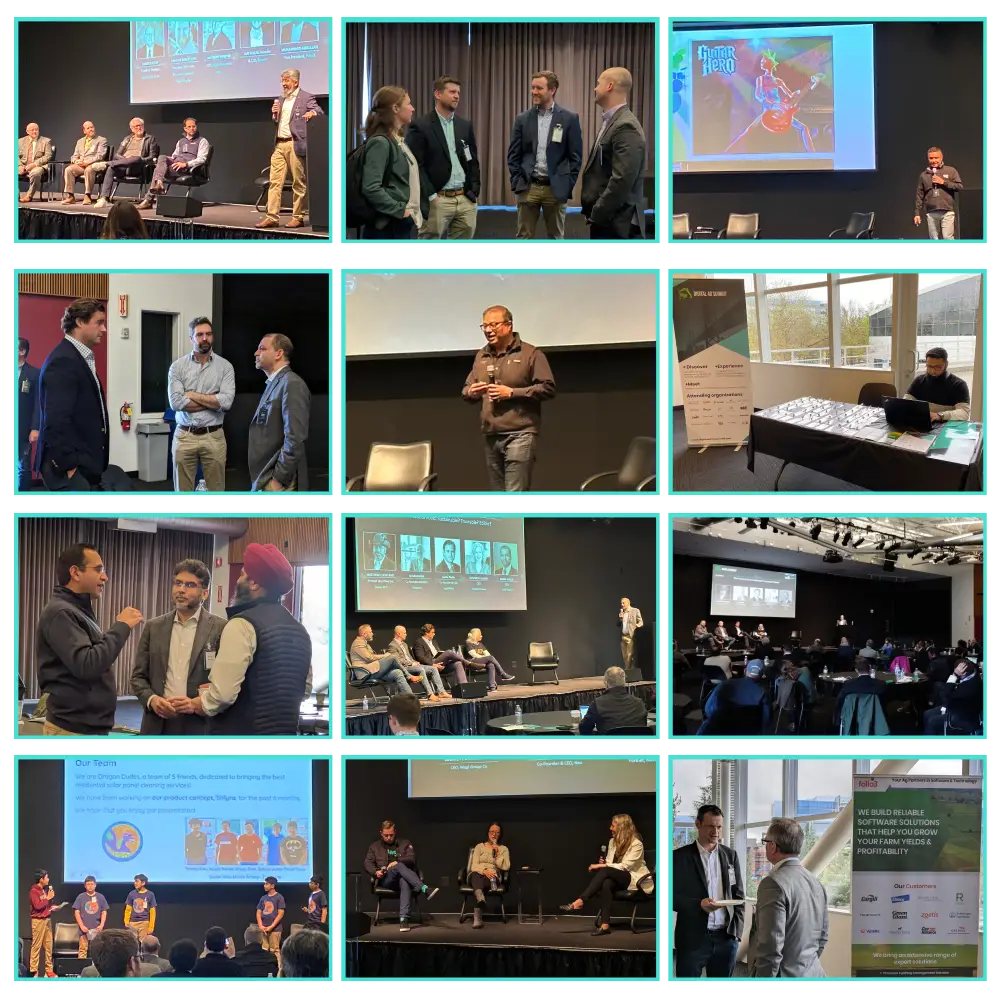 Startup Showcase
DAS held a startup showcase featuring several innovative startups in the animal technology industry. The pitch fest was judged by industry-known VCs including Danny O'Brien (Managing Director EMEA & Global Programs, SVG Ventures) Calvin Chin (Managing Partner, E14 Ventures) Suneel Goud (VP, Sharp NEC Innovation) Abid Mohsin (Partner, Mentors Fund) & Megan Berry (Partner, Mentors Fund) and moderated by Sebastien Lafon (Founder, Adapt1st). The startups that participated in the showcase were CattleCare, AnimalBiome, SomaDetect, Bactolife, and PetPair.
The summit provided a fascinating glimpse into the latest technological innovations in animal and ag industry. SomaDetect's win highlights the importance of real-time data and analysis in addressing animal health issues, and the potential for technology to improve efficiency and profitability in the animal farming industry.
Startup Showcase is the most interesting part of DAS. It is always delightful to see how these Startups are innovating the industry. In times of recession, radical innovation is important that is enabled by the startups. said Sebastien Lafon (Founder, Adapt1st)
DAS 2023 held in Mountain View on March 14th was a remarkable event that brought together industry experts, innovators, and enthusiasts in the field of agriculture, animal welfare and technology. The summit facilitated discussions on a broad range of topics related