On Thursday, October 6th, entrepreneurs, investors, professors, vet students, and influencers from the AgTech industry all logged in to come together and became a part of the most anticipated digital event of the year, the Digital Animal Summit 2022. With Folio3 AgTech as a Platinum Sponsor and an impressive digital attendance of industry leaders and professionals, DAS 2022 became a booming success. Industry giants, entrepreneurs, and influencers spoke of how the digital revolution has transformed the animal care industry and how digitization is fast becoming a need more than a want.
After a welcome note by Umair Khan, Chairperson of Folio3, the event kicked off as usual with an investor Keynote moderated by Imran Haque, founder and managing partner, Sabii Digital. Matthew Divack, investor, Moment Ventures, discussed the role of data and AI in the AgTech industry and its impact on ROI.
" Data and AI are helping Agtech Industry overcome labor shortages and extreme weather. Softwares aid in improving yield generation and farm management which is easing the ways how farming gets funded" said Matthew Divack, investor, Moment Ventures.
This was followed by a heated panel discussion on the digital transformation of the AgTech industry, as well as how the future of food will look like, how consumer trends will be measured and what can be done to quickly resolve the food industry crisis. The panellists included high profile executives and speakers the likes of Roger Saltman, founder, RLS Management Solutions LLC, Tad Sonstegard, CEO, Acceligen, Ashley McDonald, Interim VP of Sustainability, National Pork Board. The panel was moderated by Muhammad Abdullah, Vice President, Folio3 AgTech. 
This was followed by the much-anticipated Startup Showcase, where four ambitious startups shared and showcased their innovations and ambitions to four judges as well as everyone attending and participating in the virtual summit. This time around, the emerging startups that pitched their ideas to the panel of Silicon Valley VCs were as follows:
Cattler
EIO Diagnostics
One Health Group (Voyce)
Ceres Tag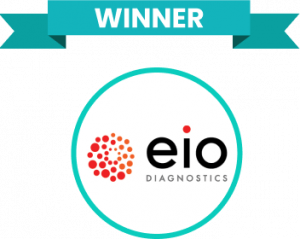 EIO Diagnostics won first place at the Startup Showcase 2022, and the winner was difficult to choose because all the teams showcased their idea extremely convincingly. The expert judges included Amanda (Curtis) Burkardt, CEO, Nutripeutics, Marcella McClatchey, Senior Program Officer, Bill & Melinda Gates Foundation, Matthew Divack, Investor, Moment Ventures, Adnan Lawai, Founding Partner, Mentors Fund, and the Showcase was moderated by Sebastien Lafon, Founder at Adapt1st.
" Startup Showcase is the most interesting part of Digital Animal Summit. It is always delightful to see how these Startups are innovating the industry. In times of recession radical innovation is important that is enabled by the startups"  said Sebastien Lafon, Founder at Adapt1st.
One of the highlights of the summit this year was the Innovator Keynote, David vs Goliath – A tale of two startups, with Doug Hexter, CEO, WoofTrax and Matthew Cleveland, Director, Genus PLC. Moderated by Umair Khan, Visiting Professor, UC Berkeley, the successful startup and the industry giant shared their entrepreneurial journeys, spoke about How machine learning changed the way they look at business opportunities and the challenges and what lessons they learned.
"It is great to see how entrepreneurs believe in taking quick decisions and arrive to innovative solution to meet consumer needs, where as the big corporations often take time to respond and innovate to industry demands" said Umair Khan, Visiting Professor, UC Berkeley
The virtual event then ended with the closing remarks and the in person event announcement for the year 2023 was made.
" Innovation matters in Agtech to improve our agricultural practices and solve food crisis. Digital Animal Summit looks forward to meeting you in person in 2023 and take our mission of innovation forward" said Muhammad Abdullah, Vice President, Folio3 AgTech. 
On Thursday, October 6th, entrepreneurs, investors, professors, vet students, and influencers from the AgTech industry all logged in to come together and became a part of the most anticipated digital event of the year, the Digital Animal Summit 2022. With