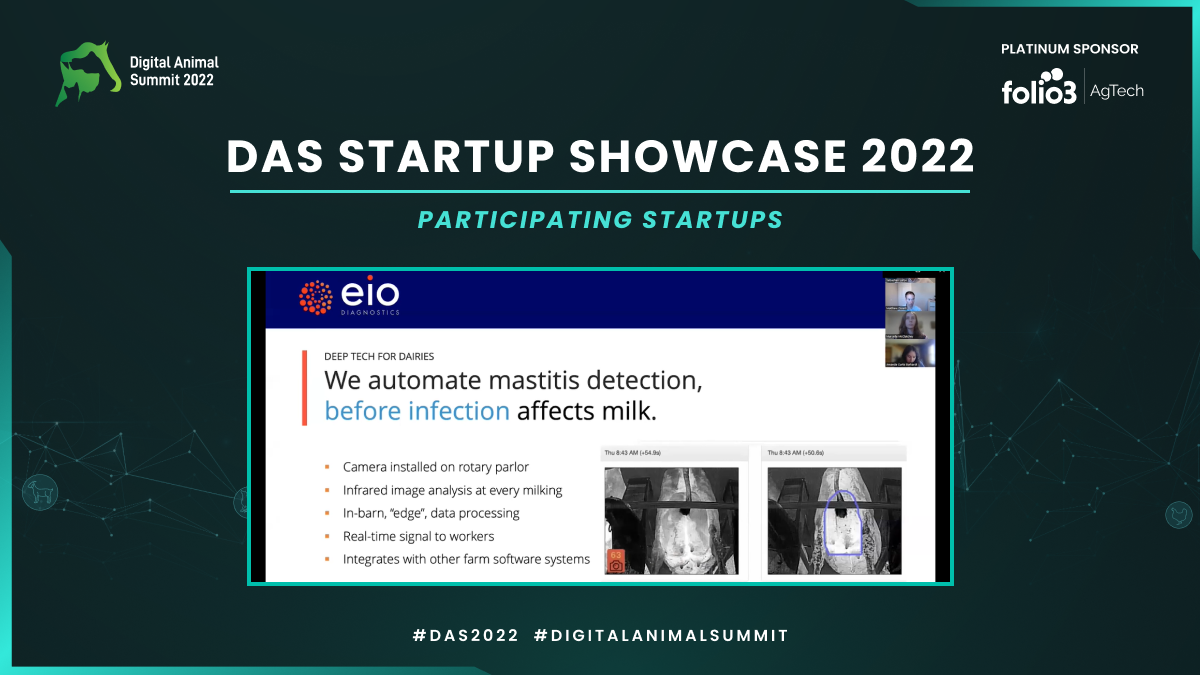 Highlights From Digital Animal Summit 2022 Startup Showcase

Digital Animal Summit 2022 has successfully concluded with over 180 industry professionals who virtually participated.
The virtual summit hosted a Startup Showcase, the most interesting part of the event. In DAS 2022 rising leaders and entrepreneurs presented their innovative Startup ideas and how they hold the ability to disrupt the AgTech industry.
The participating Startups consisted of the following:
Cattler founded by Ignacio Albornoz, a mobile and desktop management platform that enables the cattle farmer to run all its operation from a single place without hassles
Voyce founded by Michael Stanfield & Mark Frazer, acquires clinical-grade health and wellness data across diverse animal markets and fields-of-use using a platform of comprehensively designed sensor technologies
EIO Diagnostics, founded by Tamara Leigh, provides equipment and services to help dairy farms monitor the health of their animals. 
Ceres Tag, founded by David Smith & Melita Smith, provides automation of data from tag to software which allows for innovation & transparency within the industry. 
All these founders pitched their ideas to the panelists Sebastien Lafon (Founder, Adapt1st), Amanda Burkardt (CEO, Nutripeutics), Marcella McClatchey (Senior Program Officer, Bill & Melinda Gates Foundation), Adnan Lawai (Founding Partner, Mentors Fund),  Matthew Divack (Investor, Moment Ventures).
EIO Diagnostics was announced as the winner of the Startup showcase. With their focused presentation and firm business case, they proved themselves the best. Panelists admired how EIO Diagnostics makes it possible for dairy farmers to reduce labor costs of monitoring animals, enabling improved milk production. Whilst all other Startups are worthy of transforming the AgTech industry with their innovative approach of business
Folio3 Agtech being the Platinum sponsor of DAS 2022 enabled Startups to pitch their ideas in a competitive environment to the leading professionals of AgTech Industry.
To watch DAS 2022 Startup Showcase, click on the link below: