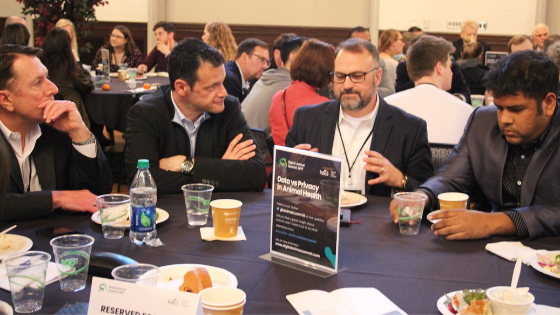 Digital Animal Summit 2019 – The Animal Industry's Most Impactful Event
On Thursday, March 21, entrepreneurs, investors, academics, and executives gathered at UC Berkeley, California, to explore animal care, production, and management in the age of AI. Organized with the support of Gold Sponsor Folio3 Animal Care Practice, the Digital Animal Summit (DAS) 2019 was headlined by over 40 industry leaders and animal tech entrepreneurs who highlighted the need to accelerate the digital transformation of the animal industry, from production animal management to companion animal care.
Panels on large animal management, the future of pet care, and food traceability, featured speakers such as Merck's Lori Torell, American Angus Association CEO Allen Moczygemba, Agri Beef VP Wade Small, Moment Venture Partner Clint Chao, Folio3 Animal Practice Head Muhammad Abdullah, Calvin Chin of E14 Ventures, Former Head of eCommerce and Digital Strategy for Zoetis Imran Haque, GlobalVetLink CEO Cliff Smith, and IBM Global Sales Leader Gary Rodrigue. The speakers highlighted the importance of tech adoption in animal care and discussed how animal health companies need to strike the right balance between in-house digital innovation and partnerships.
The summit also featured an investor keynote with Maarten Goossens, founding partner of animal tech focused Anterra Capital. Maarten discussed how animal tech is emerging for both companion animals and farm animals and shared how digitization of commerce and payments can fuel innovation in animal health, especially in countries like China where the mobile payments market has seen an explosive growth.
"There is no summit that showcases animal tech startups to industry leaders and investors.  Nor is there a forum where the old west meets the new west. The result is a lack of animal tech companies in Silicon Valley VC portfolios and slower than   expected adoption of digital technologies across the animal industry", said Umair Khan, founding partner at Mentors Fund. "The Digital Animal Summit has finally filled this gap."
On the heels of successful exits (Whistle acquired by Mars) and ginormous fundings (Wag and Rover leading the pack), a spate of young startups is using technology to transform traditional animal care. Some of the industry's emerging startups participated in DAS Startup Showdown where they pitched Silicon Valley VCs:
Pawprint: headed by Emily Dong, puts pet medical records on your smartphone
Petronics: led by Dave Cohen, makes MOUSR, a robot toy to keep your cats happy and agile
SwineTech: founded CEO Matthew Rooda, on a mission to eliminate piglet crushing.
Accessible Diagnostic: co-founded by John Warner, offers Vet-Tab, painless glucose test system for diabetic dog
Obe: founded by Hilary Jensen, keeps pets happy and healthy with its IOT based pet health and wellness platform.
The winners were announced right after the Startup Showdown. Matthew Rooda, Founder & CEO SwineTech, won first place at DAS Startup Showdown, judged by five venture capitalists. Accessible Diagnostics, co-founded by John Warner, received the Runner Up award.
"We are happy to host Startup Showdown, a Shark Tank like platform for animal tech startups to showcase and pitch their cutting-edge products and solutions to Silicon Valley VCs, offering them opportunities for partnerships and investments.", said Sebastien Lafon, Former Global Head of Digital Services at Boehringer Ingelheim, who moderated the Startup Showdown at DAS.
Attendees also participated in roundtable discussions that explored the implications of Artificial Intelligence, Machine Learning, Virtual Reality, Data Science, and Internet of Things on animal care, animal feed, and production animal management. These un-conference style discussion groups brought together like minded professionals in an informal setting to discuss and debate issues most relevant to them.
A highlight of the event was the innovator keynote with Charles Huang, the mastermind behind Guitar Hero, who talked about building real-life tech solutions that people love and shared his journey about how he went on from a startup no one would fund to a $150 million acquisition by Activision a year later.
"A big thanks to all the startups, speakers, and delegates who attended the Digital Animal Summit and made it a huge success," said M. Abdullah, Member DAS Advisory Council and Head of Folio3 Animal Care Practice. "The next Digital Animal Summit will be held on April 2nd 2020. And we can't wait to work with industry leader and entrepreneurs to shape an even bigger success."